Most Affordable Ukuleles - Cheap Ones Any Good?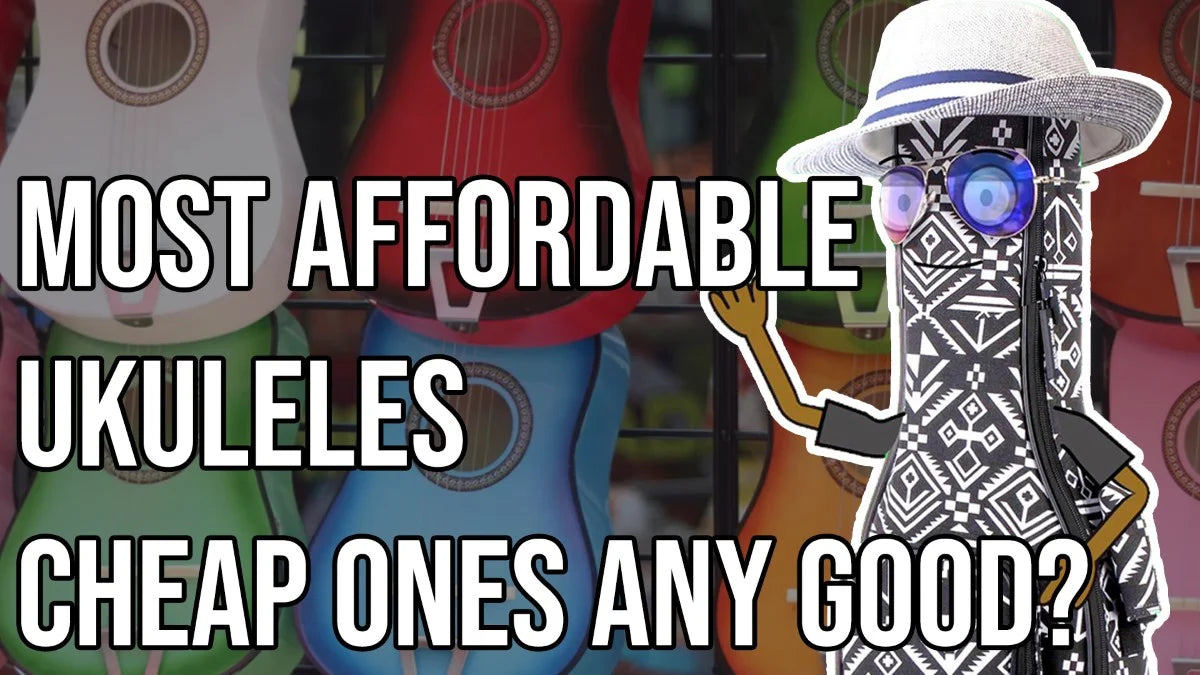 Affordable ukuleles. When looking for ukuleles that don't dent your pocket, the options are awfully big that it's easy to get lost in them. However, another thing that is easy to happen is ending up buying the wrong kind of affordable ukulele. What's that? Buying an affordable ukulele that isn't actually worth the already cheap price. That's what we'll avoid and here's a guide to look for the most affordable ukulele without risking a bad experience.
Price
What? Why mention price if we're looking for affordable ukuleles? Isn't that already a given? Well, you'd be surprised at how cheap stuff online can be and ukuleles are no stranger to such circumstances. There's a fine line between realistic price with good quality ratio and an ukulele priced under around $20 is something you might not want to do. This isn't to throw off anybody from starting a hobby, but you'd be well investing some time and saving a tad bit more for a reasonable entry level ukulele. 
With that out of the way, let's start with more affordable one in this list;
Kala KA-15S Mahogany Soprano Ukulele ($65)
Priced at around $65 only, the Kala KA-15S is a very good entry level starter ukulele. Body is made of Mahogany and is well built with a quality that usually speaks for itself as mentioned in a number of reviews for it. Some even claim that it requires minimal to even zero setup after receiving it. That's how this ukulele can be good and knowing it's less than $100 is great. No bag or accessories to come with it though. 
Kala Camo Ukadelic Ukulele ($89)
Another Kala product surprise! Bumping up the price a tad bit more, the Kala Camo Ukadelic Ukulele might right be a good choice for budding ukulele players. Kala knows what they're doing and with this ukadelic design, you get the quality you'd expect from Kala + bundled with all the goodies you'd expect from a really good starter kit; various choices for padded gig bags, tuners, chord chart, strap, cleaning cloth, stamp, etc. Pretty good build even for kids since they are built like tanks at some point.
Bondi Ukuleles Surf Series ($99)
Bumping the price a tad bit more. The Bondi Surf is one of the craziest affordable ukuleles you'd find in this price range. Why? It comes with everything you'll ever need when starting out. Bag, accessories, tuners. Everything. Heck, even an access to an online tutorial so you'll get all your basics covered. The build's pretty good and the quality on par with even some of the more expensive entry level ukuleles. Great thing is, it comes in different colors too so everybody can have their favorite. Easily one of the best in the most affordable ukuleles spectrum, price to quality.
Bondi Ukuleles Starter Kit ($149)
Now for the best value ukulele for beginners. If you're looking for a ukulele that has the looks of a mid-range, but with the price of an entry level, look no further. With a mahogany body, ebony fretboard, elegant binding, awfully bright sounding Japanese Nami Carbon strings, awesome bag of your choice and every single accessory you need and more. That pretty much covers everything a beginner would need.